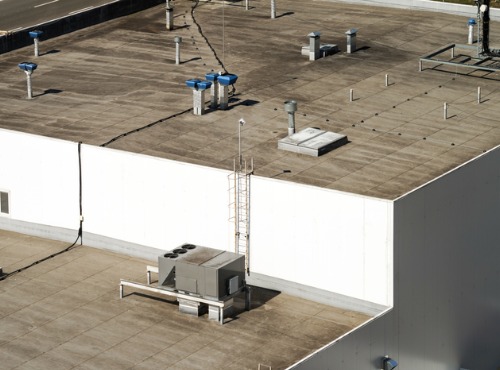 Certified Professional Commercial Roofers in Mattoon IL
Rely on Popejoy Roofing when you need experienced local commercial roofers in Mattoon IL. Call us now at 217-600-2464 for a free quote for your commercial property.
Our customers benefit from our proven experience when it comes to commercial roofing. Whether it's a brand-new roof, or repair or replacement of an existing roof, our licensed, bonded, and insured roofers can give you a comprehensive overview of your needs and a free estimate. Our company puts all terms in writing on project proposals. Thus, you can expect an upfront statement on price, payment policies, warranty information, and responsibility for cleanup before we start any work.
Our owner, John Popejoy, supervises each of our job sites to guarantee quality workmanship and a dedication to customer service. Plus, all our staff features licensed, bonded, and insured professional commercial roofers in Mattoon IL. That means they are certified and have the requisite experience needed to get the job done right. In addition, our company stands by its work with a 10-year warranty on all our workmanship.
Contact us now to get a free estimate for your commercial property. Plus, we invite you to visit our website to read reviews that give you honest feedback on the quality of our work.
Top 4 Reasons You Need Commercial Roofers in Mattoon IL
The appearance of common commercial roof problems will signal that you need roof maintenance, repair, or replacement. Contact Popejoy Roofing for a free proposal for your property if you see the following warning signs on your roof:
Large Ponds of Water
Tree limbs, leaves, dust, or trash can blow on your roof, clog drains, and causing water ponding on your roof. If the water remains on your roof, it can deteriorate your roofing materials, cause water leaks, and expose the interior of your building to elements.
Wind Damage
High winds cause suction the blows weakened roofing materials completely off the roof. As a result, parts of your roof are no longer protected from the elements. In addition, the wind damage weakens other roofing materials, and can create new water leaks. This emergency will require timely roof repair. Any delays in repair may require a complete roof replacement.
Flashing Defects
Flashing protects seams and joints in your roof from water. If flashing sustains damage or is not installed correctly, it leaves your roof susceptible to water leaks, mildew, or the growth of algae on your roof. This might also cause moisture to get trapped inside your roof, rotting roofing materials at an accelerated rate. Count on Popejoy Roofing's flashing repair to fix this type of problem.
Damage from Expansion and Contraction
Roofing materials, in particular metal components, expand and contract in response to severe hot or cold conditions outside. As they expand and contract, roof joints separate and form holes, creating unprotected areas and weak spots in your roof. Without seasonal maintenance or prompt repair, damage from expansion and contraction can require costly repairs or even total roof replacement.
Contact Our Commercial Roofers in Mattoon IL
Popejoy Roofing has 25 years of experience as trusted local professional roofers in Mattoon IL. Call us at 217-600-2464 to work with commercial roofers that are licensed, bonded, insured, and certified for commercial roofing. For your convenience, contact us online to get a free quote. Our experienced roofers can also help with residential roofing. In addition, our company provides services like chimney flashing and repair, attic ventilation systems, gutter cleaning.