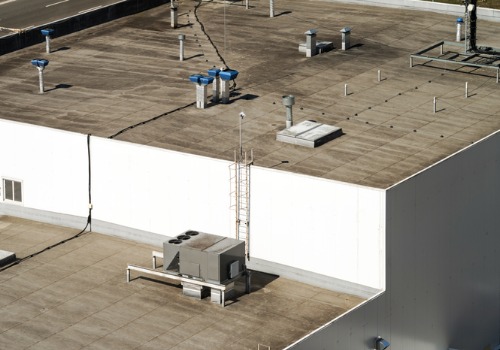 How to Find the Best Commercial Roof Contractor in Decatur IL
You should consider several different factors when you are trying to find the best commercial roof contractor in Decatur IL. Popejoy Roofing specializes in commercial roofing services, including flat roofs. Here are reasons why we feel our company can offer you the best value for your commercial roofing services investment.
Our roof experts bring 25 years of experience to commercial roofing projects.
All our roofers are licensed, bonded, and insured.
We warranty our workmanship for 10 years.
Our company partners with Malarkey to provide our customers with some of the best shingle products, including Highlander, Vista, and Legacy
Available shingles come with 30 years of warranty, the best protection in the roofing industry.
Our company puts all our job proposals in writing for you. We provide clear terms when it comes to the work scope of the project, pricing, payment policies, and cleanup responsibilities.
We can provide you with a fair and honest estimate after you make a request within 1 to 2 business days. Contact us to schedule a roof inspection now.
Roof Contractors Specializing in Flat Roofs
Consider Popejoy Roofing when you need to install specialty roof solutions such as a flat roof. You get a specialist who has experience with flat roofs when you use a Popejoy Roofing commercial roof contractor in Decatur IL. Flat roofs are popular for commercial buildings because they are affordable solutions for typically large surface areas. Our contractors can repair a replace materials on a flat roof to provide the following benefits.
Roofs that are easy and affordable to maintain and repair.
Roofing materials that are resilient to foot traffic, extreme weather, and water damage.
Roofs that offer incredible protection from water damage as long as the surface does not get punctured or penetrated.
Roofing that retains more heat to keep your heating bills lower.
Why You Need Experienced Commercial Roof Contractors
You need contractors with a unique set of skills to install commercial roofing. There are a lot of differences between residential and commercial roofs. Popejoy Roofing is your home for an experienced commercial roof contractor in Decatur IL. Our contractors use expertise they have acquired over the past 25 years to offer the best commercial roofing services. Some of the significant factors that create differences when installing residential and commercial roofing involve the following.
Commercial roofs house large equipment such as HVAC systems that bring a lot of foot traffic to the roof surface. As a result, commercial roofs get exposed to more wear and tear.
Commercial roofing requires specific maintenance methods because water drains differently than on residential roofs.
Low-sloped or flat roofs require different procedures when it comes to repair, maintenance, or replacement than pitched roofing.
Commercial buildings often include a larger surface area than residential homes. As a result, commercial roofing projects require specific equipment that roofing contractors that typically only install residential roofs do not have much experience using.
Contact Our Local Commercial Roof Contractor
Popejoy Roofing is the company to call for a trusted commercial roof contractor in Decatur IL. Our services earn more referrals than many other roofing contractors with 5-star customer reviews from our commercial clients. Call 217-600-2464 now to ask for a free estimate on repair or replacement services for your commercial roof. If you prefer, you also can contact us online to receive a free quote.