Trust Popejoy For Chimney Flashing and Repair in Mattoon, IL
In the winter, a fireplace is a comfortable piece of the ambiance of a home. From the warmth it adds to a room to the hominess it adds to your interior, a fireplace can create a comfortable space for relaxing, entertaining, and even heating your home with style. However, if you aren't taking the time to maintain your fireplace and chimney, a few problems can arise. On the roof itself, a damaged or improperly installed chimney can cause costly leakage and necessary repairs that add up fast. That's why you need Popejoy Roofing. For chimney flashing and repair in Mattoon, IL, Popejoy is the go-to roofing expert who can install and repair your chimney to prevent water damage.
Why You Need Chimney Flashing and Repair in Mattoon, IL
Chimney flashing is the metal surround located where your chimney meets the roof. It covers gaps where the chimney and roof meet, which is designed to waterproof and protect your roof from the elements. Because flashing stops seasonal rain or snow from leaking through the roof, it's important to ensure proper installation.
If you're in need of chimney flashing and repair in Mattoon, IL, trust Popejoy Roofing to have a solution that meets your needs. A one-piece chimney flashing is an affordable solution but may not be as long-lasting as a two-piece flashing. A two-piece chimney flashing, on the other hand, creates a seal both under and above the shingles of your roof. It is more costly, but highly effective.
Because Popejoy believes your happiness is of utmost importance, we strive to meet your needs every step of the way. We'll help you find a cost-effective, lost-lasting solution for your roofing repair needs.
We Guarantee your Satisfaction
We believe the customer should always be happy at the end of a job. That's why Popejoy Roofing focuses on outstanding customer service. We offer:
Financing options so you can afford the roofing services you need without sacrificing quality.
Three levels of warranties—"Good, Better, and Best"—to provide you with the right type of warranty for your home.
A partnership with Malarkey Roofing Products, which is an innovative industry leader that creates the highest-quality and most sustainable roofing products on the market.
Peace of mind because we are fully licensed, bonded, and insured by the State of Illinois.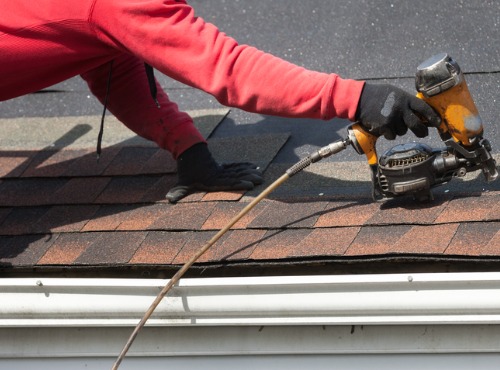 Request a Free Quote
With chimney flashing and repair in Mattoon, IL, you'll keep your home safe and well protected from the elements. We offer free estimates and insights into how important chimney and roof repairs can be. Give us a call at 309-530-4204 to get a quote or to learn more about Popejoy Roofing.